Bifurcations (Next Section)


Bifurcations and Phase Lines (Cover Page)


The phase line and the (Previous Section)

---
The phase line and graph of f also provide an easy method to classify equilibrium points for autonomous differential equations. There are only three basic types: sinks (nearby solutions converge to the equilibrium point), sources (nearby solutions diverge), and nodes (all other behavior). With an eye toward the classification of equilibria in systems, we discuss the ``first derivative test'' for autonomous equations: Suppose p is an equilibrium point for the equation
dy / dt = f(y)
If f'(p)&gt 0 then p is a source.
If f'(p) &lt 0 then p is a sink.
If f'(p) = 0 then we get no information.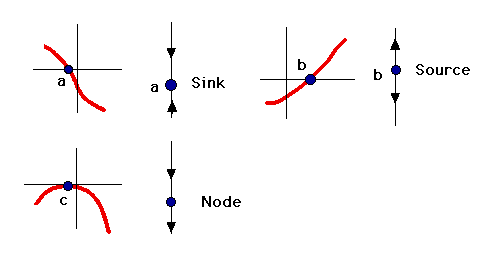 Figure 5: Sinks, sources, and nodes

See Figure 5. As above, students need to understand the relationship between the sign of f'(p), the rise or fall of the graph of f near p, and the behavior of solutions to appreciate this result.
---

Bifurcations (Next Section)


Bifurcations and Phase Lines (Cover Page)


The phase line and the (Previous Section)


---
Robert L. Devaney
May 6, 1995