Who are we?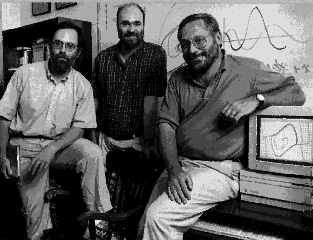 The Differential Equations project at Boston University is under the direction of the handsome little fellows above, from left to right, Glen R. Hall, Paul Blanchard, and Robert L. Devaney. All are faculty members in the Department of Mathematics at Boston University.
The real work on the project was done by the production team of graduate students at BU:
Brian Persaud
Dan Look
Sebastian Marotta
Melissa Vellela
J. Doug Wright
Gareth Roberts
Sam Kaplan
Stephanie Ruggiano
Bill Basener
Lee DeVille
Alex Kasman
Adrian Vajiac
Kinya Ono
Adrian Iovita
Nuria Fagella
Sam and Gareth have their names in bold face because they claim they did ALL the work on the book. We also had help from a number of our teaching assistants over the years:
Nick Benes
Dan Cuzzocreo
Michael Hayes
Eileen Lee
Duff Campbell
Amnon Ben-Pazi
Bridget Neale
Nick Galbreath
Clara Bodelon
Return to the BU-ODEs home page.